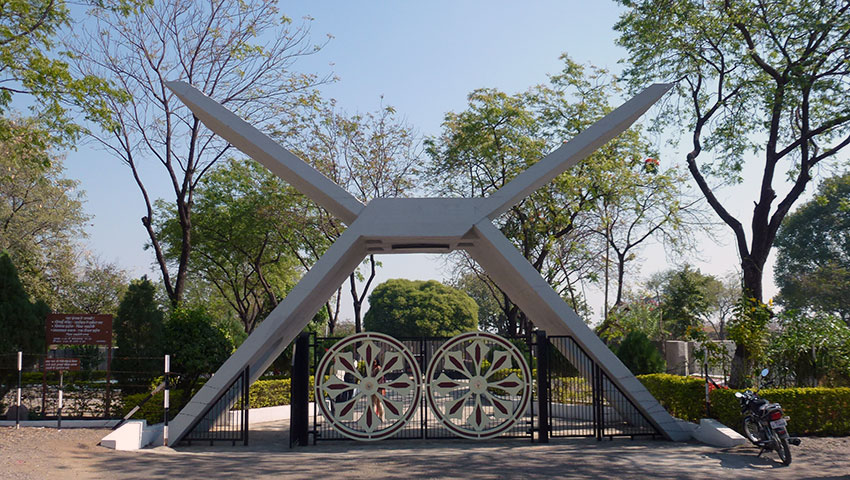 In deference to the wish of his mother, Acharya Vinoba Bhave had translated all 700 verses of Bhagavad Gita in Marathi. It was first published in the form of a book in 1932. He titled this book as Gitai, which means Mother Gita.
To create a memorial of his kulguru Vinoba's work Gitai, Shri Kamalnayan Bajaj conceptualized the Gitai Mandir which was agreed by Vinobaji. The shilanyasa (laying the foundation stone) was done by Khan Abdul Ghaffar Khan and the construction was undertaken by the Kamalnayan Bajaj Charitable Trust. The construction of Gitai Mandir was completed in 1980. Vinobaji himself inaugurated it on 7th October, 1980 being the 50th anniversary of the commencement of writing of Gitai.
The structure is built on a sprawling 27.8 acres of land at the site of Jamnalalji's Samadhi at Gopuri, Wardha. Gitai Mandir is a uniquely conceptualized structure; where one will not find idols of god/goddess, nor a sanctum sanctorum or a roof. Here the eighteen chapters of Gitai have been engraved on eighteen types of stone slabs brought from the four corners of India signifying national unity and integration. The aerial view of the Gitai Mandir exhibits a uniquely blended shape of charkha and a cow. The charkha and cow were symbols of Gandhiji's and Jamnalalji's constructive work respectively, which were close to their heart.
The Gitai Mandir complex houses a photograph exhibition depicting the life and ideologies of Vinobaji. The Shanti Kutir in the premises presents the life and times of Jamnalalji through photographs and his memorabilia. It was in these premises that Jamnalalji spent his last years by undertaking Goseva.