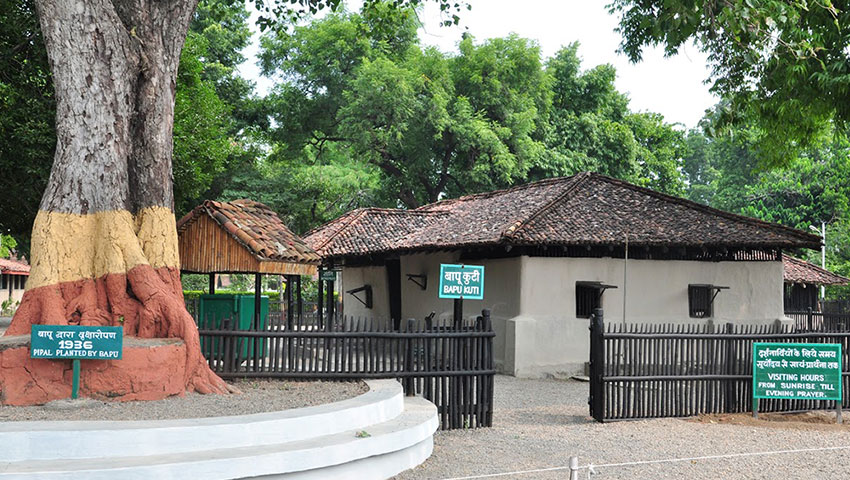 Sevagram ashram is one of the places of pilgrimage for those who want to see and feel how Mahatma Gandhi lived and fought for India's freedom.
In 1933, at the request of Shri Jamnalal Bajaj he came to Wardha for some time. He lived in the Prarthana Mandir of the Mahila Ashram. Later in 1936, Gandhiji established his residence in a village called Segaon at the outskirts of Wardha, which he renamed as Sevagram, which means 'village of service'. Jamnalalji gave his land for this ashram. Gandhiji had laid a condition that in no case more than five hundred rupees should be spent on the construction of his hut; and the materials used for the same would be procured locally. Following his instructions, Adi Nivas, the first residence of Gandhiji, was constructed at Sevagram.
The small living places which were built in the ashram for Gandhiji and his wife Kasturba and his followers were similar to the typical village huts. The ashram employed some dalits (untouchables) in the common kitchen to break the caste barriers.
Many decisions on important national matters and movements were taken at Sevagram. It became the central place for a number of institutions for the nation building activities and it remained the centre of Gandhiji's activities till India won its freedom.
The inmates of the ashram continue to perform the daily schedule of the ashram including prayer, spinning, manual labour, cleaning and farming. It maintains a bookshop, dairy farm and runs a school based on Nai Talim (new or basic education) principles. It organizes programmes on important dates and events connected with Gandhiji. Sevagram has become a place of national and international pilgrimage and number of people continue to visit it regularly.